Lower Suction Dentures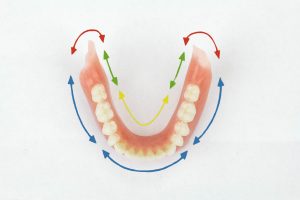 The latest in lower dentures has the industry abuzz. It is the first major advancement in denture fabrication in over 20 years, and only a few denturists have the training and expertise to do the work.
Why The Excitement? No Adhesive, No Implants!
Denturists strive to create dentures that fit well, stay in place, and provide stability so your dentures work harmoniously with your tongue muscles and jaw movements. This is an ongoing goal for the denturist and hard to achieve with conventional lower dentures.
Lower suction dentures offer an excellent alternative for denture wearers who struggle with a lower denture that lifts or floats. Since the technique relies on suction, it can even work when there's advanced resorption (bone loss) of the lower jaw, an ongoing challenge for conventional denture wearers. Many lower suction denture wearers find they can eat foods they didn't dare tackle with conventional dentures.
What Are Lower Suction Dentures?
As the name suggests, these revolutionary dentures stay in place due to suction. They do not require adhesive or costly dental implants to stay in place.
Dr. Jiro Abe of Japan developed a special impression method that captures the natural shapes of the oral cavity. The result is a strong seal around the entire periphery of the denture and suction to hold dentures firmly in place.
The Impression.
The lower suction denture impression method requires patients to make specific sounds and movements while the impression material is in their mouth. The impression material captures the movements so that they're incorporated into the new lower denture.
Who Is A Candidate For Lower Suction Dentures?
Lower suction dentures are an exciting option for 80% of upper and lower denture patients.  A thorough oral examination will determine whether you're a suitable candidate.  Your denturist will check if you have the right oral structure to hold your lower denture firmly in place. Even if the denturist determines you will not achieve full lower suction you will still benefit greatly from the lower suction technique and its stabilization result.
Lower suction dentures do not suit patients who have had recent tooth extractions and immediate or post immediate dentures, because the gums will change as they heal from the extractions. After about a year from the extractions the denture wearer may be eligible.
Call 604-530-9936 for your complimentary consultation.  To learn more, visit our website at www.yourdenture.com or view our lower suction denture educational videos on YouTube at https://youtu.be/vgAnIBLf80s
*****
Both Darren Sailer and Colin Harty, Denturist are Certified SEMCD (lower suction denture) clinicians. They're trained in this exciting advancement and can advise whether it's an option for you.
Live your best life and let us perfect your smile.
Brookswood Denture Clinic – Denture & Implant Solutions www.yourdenture.com